New course release: Advanced Warehouse Management

With the growth of the global Supply Chain, warehouses are constantly under pressure for better, faster, more efficient performance. As this pressure grows, the role of an efficient warehouse management becomes increasingly relevant.

By focusing on Risk Management, Lean Management and Green Approach this course intends to give Warehouse teams a better control of their operations: Securisations of their Personnels and Assets, elimination of unproductive tasks in their Processes and reduction of the environmental footprint of Logistics.


See the course description

Adinergy's ID Card

Adinergy is a yound company, created in 2019 by a group of experienced actors of the Oil and Gas Industry.

Adinergy is dedicated to the transmission of Experience and Knowledge through Training, Coaching and Consulting.

Our core disciplines are the Supply Chain, H2SE and Project Management.

We strongly believe our full commitment to our mission allows us to deliver excellence at a competitive price.

Contact us

Adinergy is specialized in Supply Chain Management

How to reduce Logistics environmental footprint ?

• Concerns for environmental protection and climate change focus the attention on how the Oil & Gas Companies can reduce the impact of their operations on the Environment. This has become an essential requirement of Operator's efficiency.

• Logistics and Supply Chain, by an extensive use of all transportation means to support worldwide industry's operations have a key role to play to reduce the environmental impacts of the Exploration, Project and Production phases.

Discover this course

We develop your Skills !

We are a strong team of highly qualified experts dedicated to the Energy Industry. We have worked throughout the world, on every continent, and have built an expertise in Supply Chain Management, HSE, Project Management, that we believe it is time to transmit.
Our mission of transmission puts the Human in the center of our action in order to create Industry's references and recommended practices shared by all our Clients.

Start learning today

It is time to invest in Skills development !

We, at Adinergy, are convinced the Offshore Renewable Energy sector faces close Challenges in terms of H2SE, Supply Chain and Project Management than the Oil and Gas Sector.

We believe that the experience gained on major projects in the Oil and Gas industry can be easily adapted and transmitted to the new Offshore Renewable Energy sector and projects.

We also believe training is a long term investment. The Energy sector is boosting with new Challenges and it is time to get your Personnel ready for the coming projects !

Discover our Trainings to bring your Personnel to the best of their potential !

Start learning today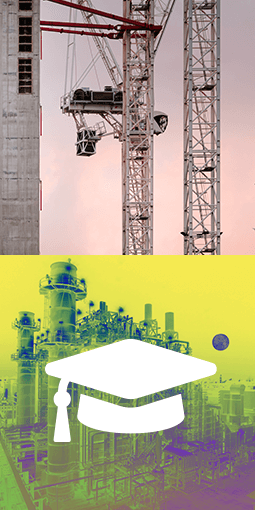 Adinergy is your support to excellence...
Our Ambition is to become your support in your operations in order to drive your personnel to excellence.
Our Duty is to produce excellence in Oil and Gas trainings at a competitive price.
Our Mission is to transmit experience acquired through years.
Our Value is to put Human in the center of our action.
Read more
Discover 72 Modules on 6 Themes
By clicking on one of the 6 themes, you will have access to the courses modules related to these topics.
You will then have the possibility to build your course by selecting the modules of your choice !
See all